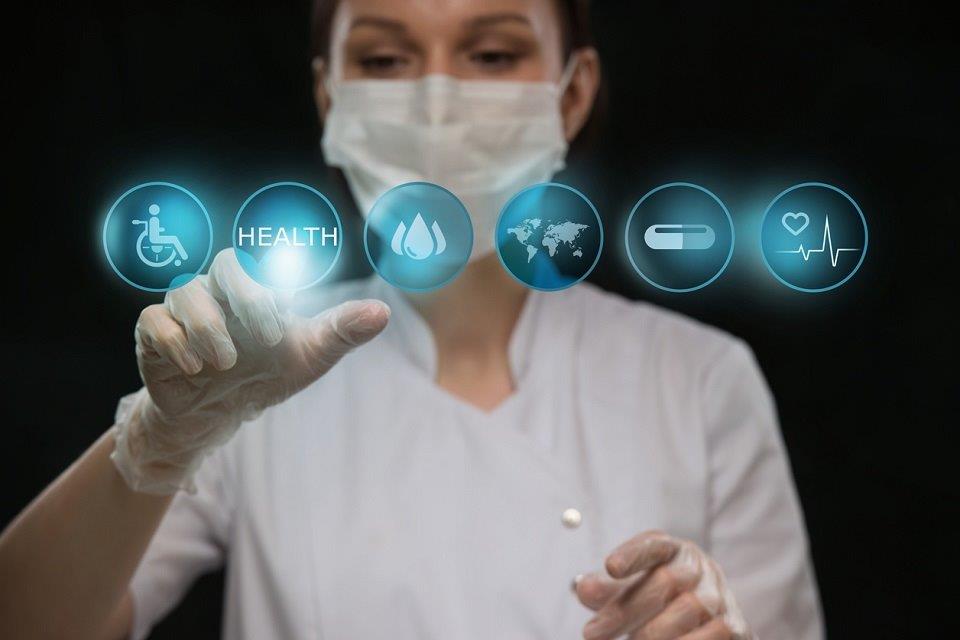 The power of data in a pandemic
The NHS is facing an unprecedented challenge. Responding to the Covid-19 crisis will require everything we have and more. In the fight against this pandemic, decision-makers will need accurate real-time information. To understand and anticipate demand on health and care services, we need a robust operating picture of the virus, how it's spreading, where it might spread next and how that will affect the NHS and social care services. On the supply side, we need to know where the system is likely to face strain first, be that on ventilators, beds or staff sickness.
Different parts of the NHS already capture much of this information, but staying ahead of this virus and flattening the curve will require us to streamline the way we use that information. In a crisis response, inconsistencies in this data could cost lives. The last few weeks have seen increased stress on the system with multiple additional requests for information, and a complex and wide array of information sources that must be considered. Without a single place to gather and analyse this data, decision-makers are unable to move as quickly as the response demands; information in spreadsheets held by disparate organisations will be duplicated and rapidly become outdated, leading to inaccurate or incomplete understanding of the situation. 
So what are we doing?
To execute a coordinated and effective Covid-19 response, the Government has commissioned NHS England and Improvement and NHSX to develop a data platform that will provide those national organisations responsible for coordinating the response with secure, reliable and timely data - in a way that protects the privacy of our citizens - in order to make informed, effective decisions. 
NHS England and Improvement will create a data store to bring multiple data sources into a single, secure location. This is what we are calling the backend or initial store. Data needed to inform the Covid-19 response will come from across the NHS and social care and from partner organisations. It will include data such as 111 online/call centre data from NHS Digital and Covid-19 test result data from Public Health England. 
To provide a single source of truth about the rapidly evolving situation, data will then be integrated, cleaned, and harmonised in order to develop the single and reliable information that is needed to support decision-making. The results will be presented as dashboards that give a live view of the metrics needed to track and understand the current spread of the crisis, and the capacity in the healthcare system to deal with it. 
All NHS data in the store will remain under NHS England and NHS Improvement's control. Once the public health emergency situation has ended, data will either be destroyed or returned in line with the law and the strict contractual agreements that are in place between the NHS and partners.
A beta form of our first dashboard will be ready to share with key government decision-makers this week, with the intention to make as much data openly available as possible over time, including a separate dashboard to support public understanding. We will make the code and the data open source wherever we can while ensuring the highest standards of confidentiality.
What this will allow us to do
By consolidating information from across the NHS and partner organisations, we will give decision-makers more accurate visibility into the status of the response. This includes metrics such as:
Current occupancy levels at hospitals, broken down by general beds and specialist and/or critical care beds

Current capacity of A&E departments and current waiting times

Statistics about the lengths of stay for Covid-19 patients
These metrics will be able to be analysed from the national level down to individual NHS Trusts and hospitals. With an accurate view of these metrics in place, the data allows decision-makers to answer questions about the response and explore the impact of different decisions. This will lead to a better understanding of how the virus is spreading, when and where the healthcare system will face strain, and which interventions can best mitigate the crisis. 
Using the dashboards, decision-makers will be able to:
Understand how the virus is spreading at a local level and identify risks to particularly vulnerable populations;

Proactively increase health and care resources in emerging hot spots;

Ensure critical equipment is supplied to the facilities with greatest need; and

Divert patients/service users to the facilities that are best able to care for them based on demand, resources, and staffing capacity.
How is confidentiality being protected? 
While moving at speed, essential data governance procedures and established principles of openness and transparency remain at the core of everything we do. We are following the same rules for information governance that underpin our day-to-day work. 
The data brought into the back end datastore held by NHS England and NHS Improvement will largely be from existing data sources e.g. data already collected by NHS England and NHS Improvement, Public Health England and NHS Digital. All NHS data remains under NHS England and NHS Improvement control.
All the data held in the platform is subject to strict controls that meet the requirements of data protection legislation. GDPR principles will be followed, for example the data will only be used for Covid-19 and not for any other purpose and only relevant information will be collected. Any request to access data will be reviewed through a single process controlled solely by NHS England and NHS Improvement and NHSX.
Who is working on it
In this time of crisis, we need the private sector to play its part to tackle these unprecedented challenges. We have therefore enlisted the help of some of the most cutting edge and experienced firms from across Britain's technology sector. It is of paramount importance that the back end data store and front end platform are secure, and that all NHS data remains under NHS England and NHS Improvement's control. Our technology partners are subject to the same strict rules for information governance that we follow in our day to day work. 
NHSX

along with

NHS England and Improvement

are leading on this project working with multiple partners leveraging internal skills and also skills from the wider NHS family. The team is being led by the Director of AI, Indra Joshi, and Ming Tang, Director of Data/Analytics, NHS England/Improvement

Microsoft

is supporting NHSX and NHS England's technical teams, who have built a backend data store on Microsoft's cloud platform, Azure, to bring multiple data sources into a single, secure location. A G-cloud data processing contract is in place.

Palantir Technologies UK

is providing the software, Palantir Foundry, that powers the front end data platform. Palantir Foundry, which has been primarily developed in the UK, enables disparate data to be integrated, cleaned, and harmonised in order to develop the single source of truth that will support decision-making. Foundry is built to protect data by design. A G-cloud data processing contract is in place. Palantir is a data processor, not a data controller, and cannot pass on or use the data for any wider purpose without the permission of NHS England

Amazon Web Services (AWS)

is helping to provide infrastructure and technologies that are enabling NHSX and its partners to quickly and securely launch the new Covid-19 response platform for critical public services at a time when it is important for public and private sector organisations to work together to combat this crisis. AWS has the highest score awarded by the NHS Data Security & Protection (DSP) Toolkit.

Faculty

is a London-based AI technology specialist that has an existing partnership with NHSX and is now supporting the development and execution of the data response strategy. This includes developing dashboards, models and simulations to provide key central government decision-makers with a deeper level of information about the current and future coronavirus situation to help inform the response.

Google:

The NHS is exploring the use of tools in the G Suite family to allow the NHS to collect critical real-time information on hospital responses to Covid-19. Data collected would be aggregated operational data only such as hospital occupancy levels and A&E capacity. It will not include any form of identifiable patient data. 
As we have seen countless times in the last few weeks, a national effort is required to limit the impact of Covid-19, whether that means asking car manufacturers to build ventilators, private hospitals to aid the NHS, or technology firms to provide software to power the response. We believe that the support provided by these partners will enable the Government to respond more effectively to the crisis.
We have chosen these organisations in particular because of their knowledge in data and the skills they have for working in complex environments and delivering at pace in this time of crisis. 
What happens after the outbreak is contained
When the pandemic abates and the outbreak is contained, we will close the Covid-19 datastore. The Data Processing agreements put in place with the organisations listed above include the steps which need to be taken to cease processing and to either destroy or return data to NHS England and NHS Improvement once the public health emergency situation has ended.
Already this crisis has reinforced the value of quick, secure collaboration. After the emergency is over, we hope to be able to use what we have learned from our technology partners to get better within the Government at data collection, aggregation and analysis in a way that protects the privacy of our citizens. Having relevant data to hand will make our systems more resilient and better able to respond immediately to the next crisis - or even predict it before it happens. Furthermore, sophisticated data analysis will allow us to make changes to the NHS, ensuring that our hardworking health and care professionals and the people that depend on them are served by a much more efficient and responsive organisation.
We will continue to update the public on our plans and progress.