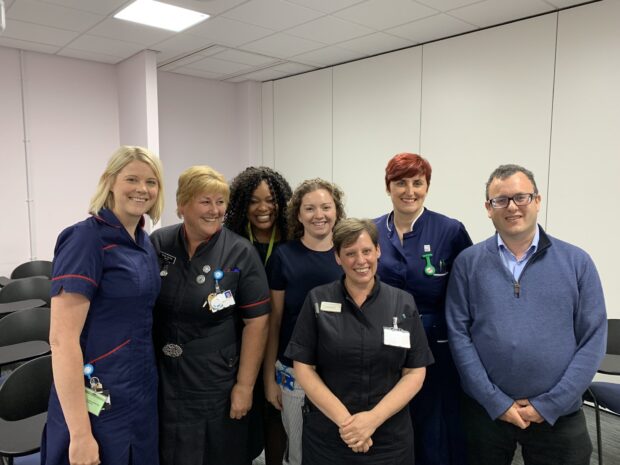 NHSX has just completed a major review of NHS tech spending. We went through all of the centrally funded tech programmes because we wanted to answer 3 big questions:
what are our priorities for technology in the NHS?

how can we make sure that what we do is aligned with the

tech vision

and the

NHS Long Term Plan

?

how do we live within our means?  
Our priorities
NHSX exists to give patients and staff the technology they need. That's our mission, but what are those user needs?  As I've travelled round lots of different parts of the NHS in the past few weeks, clear patterns emerge.
Number one is the need for interoperability. Too many NHS systems can't talk to each other. It could be a blood test taken in one part of the NHS that can't be viewed in another, a GP's system that doesn't update when a hospital switches a patient's medication, a mental health crisis team who have no idea the patient also has a heart condition.
Our siloed systems put patient safety at risk because clinicians end up treating patients without the full information. They stifle innovation because developers can't build on them.
We also know that too many clinicians are frustrated by clunky tech getting in the way of their ability to do their job.  Across the country, doctors, nurses, dentists, social workers and others - all stretched and time-poor - are wasting huge amounts of time on painfully slow log- ins, fighting with old kit, or having to remember dozens of different passwords over the course of their day.   
For patients too, especially those who deal a lot with the NHS, a better digital experience can make life easier. People who are used to dealing with their bank by app can't understand why their hospital insists on sending test results by post.   
So with all that in mind, these are the top delivery missions we've agreed for NHSX:    
reducing the burden on clinicians and staff, so they can focus on patients

giving people the tools to access information and services directly

ensuring clinical information can be safely accessed, wherever it is needed

aiding the improvement of patient safety across the NHS

improving NHS productivity with digital technology
Our plan
First, we're going to focus on standards and platforms, keeping the centre as 'thin' as possible. This is how the internet works and it's the only way we will ever be able to be able to transform an organisation as large as the NHS.
Standards are the common technical and semantic rules that everyone agrees on in order to participate in a system. Plug sockets are a standard, URLs for web pages are a standard. In the NHS standards are essential for delivering interoperability, so essential diagnostic information gets to where it's needed. Standards also mean we can more easily 'plug in' new digital services once they've been invented.
But we don't want to build many digital services ourselves. There are plenty of clinicians, charities, start-ups and NHS trusts that can do a much better job of designing new services than we can at the centre. Instead, as I've previously blogged, we will focus on creating platforms that other innovators can build on.
An app that tracks your blood sugar or supports your mental health, for example, could take you to an in-app GP booking service, using the booking platform we're going to build.
To make it all happen, we need to help the whole NHS to become more digitally capable. It's no good dreaming up grand digital projects from the centre if hospitals and GP surgeries don't have the equipment, the skills or the capacity to see those plans through.
So we need to put a large part of our effort and resources to helping the system get the capability it needs. And not just on the medical side - our efforts in this space will focus as well on the social care system, where digital capability is mixed.
Our programmes
So what does this all mean in practice?
Going into this review the NHS centrally ran about 30 different digital transformation programmes. Some of these began years ago and this exercise has been an opportunity to review them, cut down on unnecessary duplication, incorporate new technology, move some programmes to live services and bring teams closer together.
The result of all this is that we now have 10 major transformation pieces of work:   
NHS app and citizen ID

digital child health and maternity

integrating community providers (including pharmacists, optometrists, dentists and ambulances)

screening

booking, referrals and appointments management

standards (including medication standards)

primary care

urgent and emergency care

social care

local capability (including LHCR, HSLI, GDEs and Carter money)
Programmes that support interoperability and the joining up of data across population and place, like the Local Health and Care Records Exemplars, will continue. So too will the Global Digital Exemplar programme supporting 26 acute, mental health and ambulance trusts, but with more emphasis on the parts of the NHS that need most help. The NHS Digital Academy supporting current and future Chief Clinical Information Officers and Chief Information Officers will also continue.
Some of our programmes are closing. This is either because they have delivered on their objectives and are being moved to live services, or because we want them to become a mainstream part of the way we design and deliver digital services in the NHS, not just a discrete project. Accessibility and digital inclusion, for example, should be something that all our teams think about.
Programmes that are being closed include:
NHS Wifi, which was successfully delivered in March 2019

Access to Service Information: which is moving to live on the basis that the team will deliver a Directory of Services that will function as a canonical data register, as well as a bookings and referrals management system

Digitising Community Pharmacy: which is completing the Electronic Prescription Service and moving to live

Medicines Data and Integrating Pharmacy Across Care Settings: these programmes are stopping. Their aims will be incorporated into our work on interoperability, as well as a specific piece of work on linking pharmacists, optometrists and dentists into mainstream NHS processes   
The Widening Digital Participation project has come to its planned end and will be incorporated into the wider work of NHSX.
There is more spending to look at and we will never stop trying to find ways of smarter working. We're not done yet. For now though this process has been a hugely valuable exercise, bringing together the entire tech leadership of the NHS to thrash out agreement in exactly the way that NHSX was designed to do.
I'm very grateful to everyone who took part. Now we have to deliver.