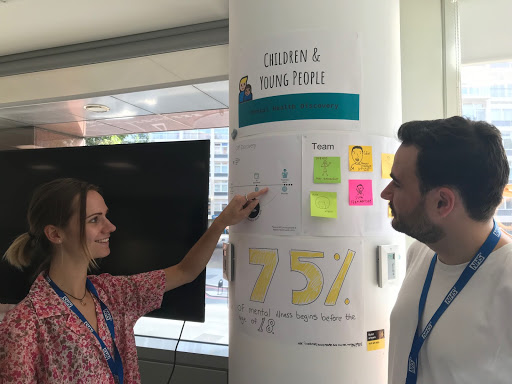 Mental health is one of NHSX's priority areas. Our team have started a discovery focusing on children and young people (CYP).
It's recently been reported that children and young people are waiting up to 10 months to access treatment from mental health providers and this varies by region. Our discovery is exploring the opportunities to support children and young people in preparation for their first appointment or upcoming treatment.
We care about making sure that users are at the heart of this work. Can you help us to reach out to groups of young people, parents and staff?
What do we want to find out?
children and young people's needs and experiences waiting for mental health support

parent's experiences including challenges, touchpoints and information needs

how the service is being delivered including perspectives and challenges of staff and health professionals
What is happening?
Over the next 6 weeks, our team are conducting:

reviews of previous research 

workshops with Young Person's Advisory Groups and networks

home visits and remote interviews with parents or guardians

site visits to locations delivering mental health services in the NHS 
Who are we looking for?
groups of children and young people aged between 8-25 who are either currently waiting or have recently waited for support 

parents of children and young people in the categories above

health professionals delivering mental health services in the NHS (including CYPMHS (

CAMHS

) staff, GPs and therapists)
Your participation is really important for improving these services. If you're interested in taking part or can help us reach out to these user groups, please get in touch at digitalresearch@nhsx.nhs.uk. 

If you have any previous research or want to give feedback to the team then please contact us through this feedback form. 

We're also sharing weekly updates here.