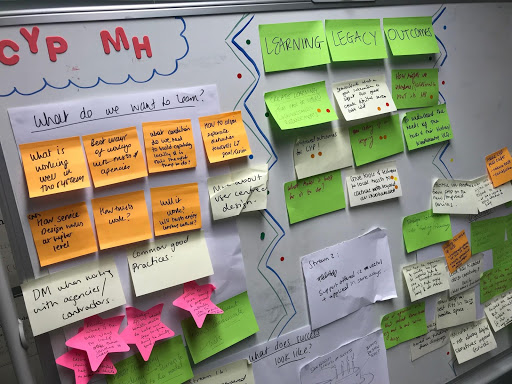 Context
NHSX and NHS England collaborated on a discovery to explore: 
"What are the opportunities to support children and young people in preparation for their first visit or subsequent treatment from mental health services?"

We were a small team of digital specialists, policy and subject matter experts.
The aim was to understand the experience of waiting from the perspective of children and young people, their parents and the staff delivering mental health services. We also looked more broadly at the problem and challenges across the end-to-end service.
What we did
In the 8 week discovery the team carried out:
Familiarisation with previous research and reviewing data from across the service

Site visits to staff in children and young people's mental health services (CYPMHS) 

to learn how the service is being delivered and what's being done to support people whilst they wait

Home visits conducting 1:1 interviews with

parents

to build empathy and help them to feel more comfortable sharing their experiences

Experience mapping task with

children and young people

to express their feelings of waiting for support, with follow up interviews using the map as a stimulus

A content review of letters sent to parents and young people during the waiting time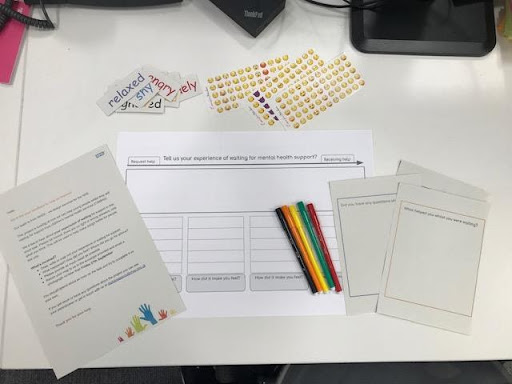 Design Opportunities
We grouped findings into 'how might we' statements and held design days to come up with ideas around each statement. These were:
How might we

make families feel cared for when they are seeking help from CYPMHS?

How might we

set expectations about what users will receive from CYPMHS?

How might we

allow for more choice and flexibility in how people experience CYPMHS?

How might we

have an authoritative source of approved services and resources?
This led to 11 prioritised design ideas. This included things like humanising the service, best practice content guidelines and location previews.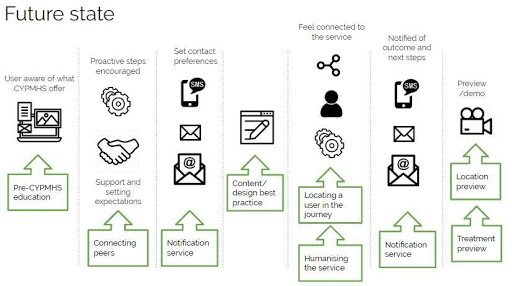 What's next?
The team wanted to take this a step further than the traditional alpha phase in a way that would have the most impact. 
Given the variation across services, we thought it would be a good idea to set up partnerships with trusts directly. This is so that we can have a hands-on approach to test ideas in context whilst building capability in user-centred design. 
We have split the partnerships into:

Stream 1: Embedding digital specialists into local teams to shape the end-to-end pathway and test parts of the service based on findings from discovery
Stream 2: Supporting existing projects into the next stage of maturity in line with GDS and NHS service standards.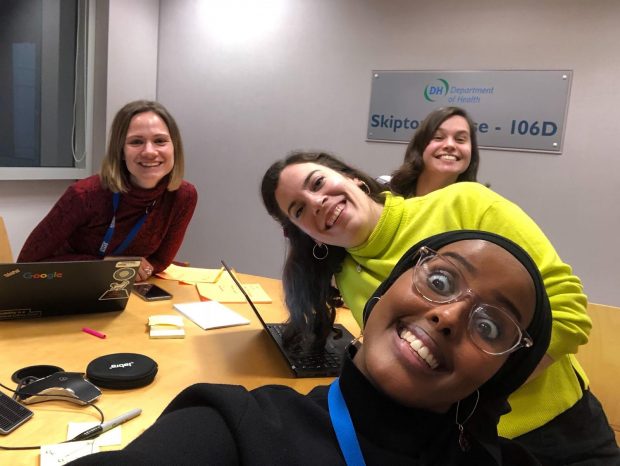 In the central team, NHSX are taking a strategic view to align the streams of work towards a wider vision for children and young people's mental health. We will be sharing learning and understanding the needs of trusts so that we can develop a model that can be scaled.
We hope this is a way to enable teams to flourish and to drive forward sustainable change, putting users at the centre of our services.
To keep up to date with our progress, you can read our weeknotes.
This is the first time we've worked in this way, so we'd love your feedback. 
For any questions about the discovery or to get involved, contact sophie.rankin@nhsx.nhs.uk