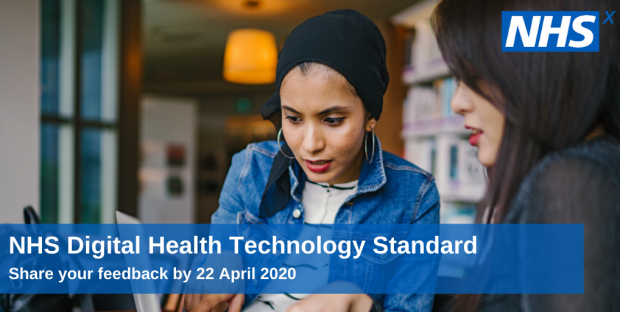 In our last blog, we talked about our plans to evolve and streamline the way health innovations such as apps and other digital tools are reviewed and assessed by the NHS. Over the last year, we have been working with stakeholders, both internally and across the wider ecosystem, to draft a technology standard that clearly outlines what the NHS expects. 
We have developed the draft Digital Health Technology Standard, based on existing industry and health standards, to bring them together in a consistent, transparent and accessible way. This standard intends to consolidate and replace existing standards, rather than add new ones. This is part of our wider programme of work to speed up how health technologies are reviewed, commissioned and scaled across the NHS and social care, and to provide clearer guidance to support digital health technology developers. 
What's in it for developers?
Creating this standard is part of our wider programme of work to enable speedier commissioning of trusted health technologies by the NHS. This will help align procurement frameworks to make it easier for developers to navigate - and provide a common standard for other policy teams such as diabetes and mental health, to use as a baseline expectation.
What's in it for commissioners?
Having engaged with commissioners, we know this will streamline and help speed up the procurement and decision-making processes, enabling the NHS to procure and adopt relevant, safe and innovative technologies more quickly. There will be a single source of assured products and services.
What's in it for clinicians? 
For clinicians, the standard will provide assurance that digital health technologies demonstrate levels of safety, efficacy and value appropriate for use in much the same way we would expect for other treatment modalities.  As such, they will be able to incorporate digital products and services into mainstream care with confidence. 
What's in it for patients?
Citizens will have access to digital tools to help manage their care which have been assessed as safe, secure and effective to use.
We want a standard that works for everyone
We recognise the need to get input from a wide range of audiences who have an interest in digital health, such as clinicians, commissioners, developers and patients, to ensure it is robust and ambitious while being attainable. That's why we have created this survey so we can find out if it is appropriate, if anything is missing, and the challenges and benefits of applying the standard.
The draft standard has 10 components with a rationale for why developers need to comply with it, and links to all relevant guidance needed to support applications.
Public Health England has also recently launched a useful collection of resources to help anyone developing or running a digital health product to conduct an evaluation, from defining how it works, to choosing evaluation methods and analysing the data. 
Take a look at a brief overview of the standards for Digital Health Technologies (DHTs) below:
 

Review the Code of Conduct for Data-Driven Health and Care Technologies and, as appropriate abide by the principles
The Code of Conduct clearly sets out the behaviours we expect from those developing, deploying and using data-driven technologies, to ensure that everyone abides by the ethical principles for data initiatives. This relates to issues such as transparency, accountability, safety, efficacy, explicability, fairness and bias, as well as the potential unintended harm by the increasing use of data-driven technologies.
 

Ensure that the product is designed to achieve a clear outcome for users or the system
Developers must understand how their innovation will result in better provision and/or outcomes for people and the health and care system. DHTs must have a clear value proposition with a business case highlighting outputs, outcomes, benefits and performance indicators.
 

Ensure that the product is easy to use and accessible to all users
Health and care services are for everyone, including people with different physical, mental health, social, cultural or learning needs. All DHTs should be designed to meet the needs of this diverse set of users. 
 

Ensure that the product is clinically safe to use
All DHTs must be clinically safe to use and be designed in a way that ensures there is no risk of them causing harm to users, for instance by miscalculating a drug dose or giving incorrect medical advice to a citizen or health care professional.  
 

Ensure that the product collects, stores and processes users' information in a safe, fair, ethical and lawful way
Innovators in the digital health field often come from sectors that are not necessarily familiar with medical ethics and research regulation, and who may utilise data sets and processing methods that sit outside existing NHS safeguards. People need to know that their data is being used to improve health and care for them or others and that their privacy and rights are safeguarded.
 

Ensure that the product meets industry best practice security standards
A core element of at-scale adoption and uptake is ensuring trust through security and data protection. Security decisions must not be an afterthought, but made throughout the development process in a rational way based on real-world testing. All DHTs must ensure that user data is collected, transmitted and stored safely.
 

Ensure that the product meets all regulatory and legal requirements
The regulation of health apps provides patients and healthcare professionals with the assurance that apps are high quality, safe and ethical. DHTs must conform to the latest medical device and health and care service regulations.
 

Ensure that the product makes the best possible use of open standards
If a DHT needs to communicate with clinical systems to share data, it must comply with the relevant clinical, professional and technical standards. For example, if it writes clinical information in records held by GPs, or allows users to access their own records.
 

Ensure that the product is appropriately tested and is fit for purpose
All DHTs must be suitable for their stated purpose and be confident that they can provide a robust and stable service. They must have been effectively tested for reliability, performance and scalability. 
Generate evidence that the product achieves clinical, social, economic or behavioural benefits
All digital health technologies must work and must be clear about their purpose and their benefits to citizens and health and social care professionals. They must be grounded in the best and most up-to-date knowledge, derived from research, clinical experience and citizen preferences; they must also ensure that they monitor their own efficacy so that they can evidence their impact.
Read the full draft Digital Health Technology Standard and take part in the survey. We will continue to develop the standard based on your feedback and publish a final version, along with a list of external assessors who have been accredited to assess DHTs, in Summer 2020.
We are also hosting workshops with our industry engagement partner, MedCity - more details coming soon - and if you have any questions or feedback please do contact us at dnhsx@nhsx.nhs.uk.