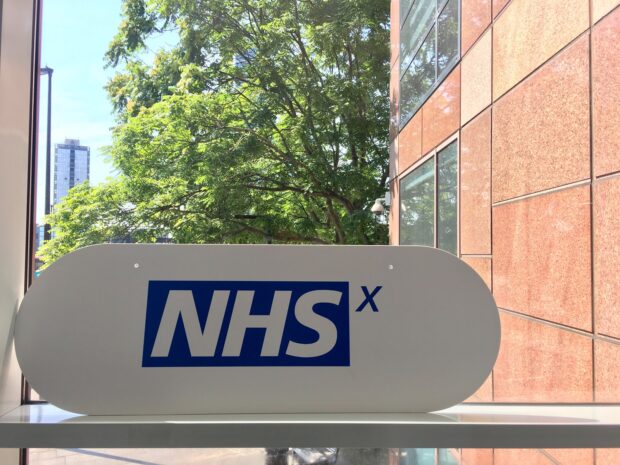 Created in February by the Secretary of State, NHSX is leading on the digital transformation of the NHS and social care - this is an incredibly exciting time to be involved.
What is NHSX?
Our mission is to improve health and social care by giving people the technology they need. NHSX will deliver the Health Secretary's tech vision, building on the NHS Long Term Plan.
Our 5 core missions are: 
reduce the burden on staff, so they can focus on patients

give citizens tools to access information and services directly

ensure clinical information can be safely and digitally accessed

improve patient safety across the NHS

increase NHS productivity
Part of the work of the digital transformation team is to support the delivery of these missions by working on 3 priority programme areas

screening

mental health 

cancer
We are working alongside colleagues from across the Department of Health and Social Care and arms lengths bodies (such as NHS England and Public Health England) as well as the wider NHS system. We are building multidisciplinary teams to deliver better outcomes for patients, clinicians and users across end-to-end services. 
New roles
We are currently a small team of digital and technology specialists supporting policy teams to understand problems and deliver better services that meet user needs. Following the creation of NHSX we will be growing rapidly and extending our support to the digital transformation of the NHS. By joining our team, you will have the opportunity to share your ideas and shape how this is going to look.
If you'd like to be part of NHSX, we are recruiting for a number of positions in our team on a 12 month fixed term appointment or loan.  All roles are available either in Leeds or London.  
To apply and be part of a passionate and talented team that will be making a difference to the lives of millions of people, take a look at the short videos below about the different roles and click through to the adverts on Civil Service Jobs.
As a Technical Architect in NHSX you will be at the heart of efforts to continue to improve digital delivery and use of technology. This is a challenging and exciting role, with the opportunity to bring about real change.
This will be a new role for us at NHSX, so we don't have an accompanying video!
You'll have a chance to shape what service design means in NHSX as well as be part of a multidisciplinary team interacting with policy-makers to design and deliver effective user focussed services.
You will work on creating and improving services. This is part of making the shift towards services in the health and care system that are genuinely driven by user needs (and therefore more successful in terms of prevention, adoption, digital uptake and realising savings).
As a user researcher, you will be helping teams ensure that the user is at the heart of what we do and supporting effective digital delivery across NHSX and the wider health and care system. 
You will work alongside policy and digital specialists to build a clear picture of their users and deliver solutions that they need across a range of policy areas. This will not only produce better products and services across health and social care, but will help to understand complex problems in this space. 
To find out more about each of these jobs, follow the links to Civil Service Jobs for the Technical Architect/Adviser, Service Designer and Associate User Researcher roles.